Video Games
Figurines
DVDs
Music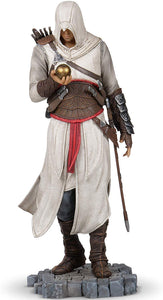 ALTAIR FIGURINE : APPLE OF EDEN KEEPER - ASSASSIN'S CREED

Orphaned at a young age and raised by the Assassin Mentor Al Mualim, Altaïr was single-mindedly dedicated to the Assassins' cause. However, in his youth, his exceptional skills led him to become overconfident and careless. Altaïr would have to overcome failure and betrayal to emerge a wiser man, the one to lead the Brotherhood into a new era.
After claiming the Apple of Eden from his Mentor, Altaïr dedicated himself to studying it. He recorded his findings in a journal known as the Codex and used it to create new techniques and innovations for the Assassins to use.
We mean business!
We also provide the opportunity for wholesale!
Contact us at:
(514) 344-0480
sales@just4games.ca